Chilled Cilantro Mint Avocado & Lime Soup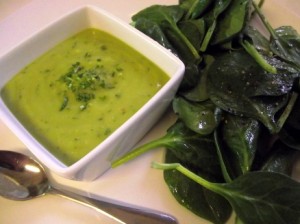 I don't care that I'm posting this in March because I had a craving for it. It is however, the perfect hot summer day meal because it's cold and creamy and best of all, requires NO COOKING!!! It's a very light and delicious soup and if you want something like this but just a little more hearty then simply add a handful of cooked, shelled, de-veined and chilled shrimp or prawns right before serving. Substituting half of the stock with coconut milk will also produce a nice chilled meal but much heavier version.
Ingredients
2 very ripe avocados
2 tbsp white onion finely diced
1 tbsp fresh mint finely diced
3 tbsp fresh cilantro finely diced
1 large garlic clove finely diced
3 cups vegetable stock (can sub with chicken stock but the veg is much better for this)
Juice & zest from one lime
1 tsp soya sauce
sprinkle of dried chili peppers
salt & pepper to taste
Directions
Half the avocados and scoop flesh into a food processor along with all other ingredients (except the lime zest and shrimp if you are using them) Blend until smooth and then cover and let chill until you are ready to serve. You can prep all of the ingredients before hand other than the avocado, but don't cut the avocado or blend more than an hour before you serve it as the avocado will start to darken. Garnish with lime zest and serve in chilled bowls with a simple salad or fresh crusty bread.
Prep Time: 20 minutes
Cook time: 0 minutes
Total time: 20 minutes
Yield: 2 to 4 servings
© Copyright 2023 Kim Hatcher at figandpepper.com
Leave a Comment
XHTML: You can use these tags: <a href="" title=""> <abbr title=""> <acronym title=""> <b> <blockquote cite=""> <cite> <code> <del datetime=""> <em> <i> <q cite=""> <strike> <strong>