Cilantro Coleslaw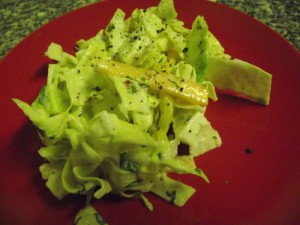 This quick but delicious side is my ode to pre-made sauces. There is no reason that you can't start a recipe with a bottled sauce, as long as you freshen it up with your other ingredients.
* if you like cliantro and have lots of it you can also try this Cilantro Pesto.
Ingredients
1 small green cabbage
1 carrot
1 tsp chopped cilantro
2 tbsp ceaser dressing (I like the PC yogurt based version)
1/3 tsp lemongrass paste
1 tsp white vinegar
pinch of sugar
pinch or chili flakes
salt & pepper
Preparation
Grate the carrot and rough chop the cabbage. Combine all other ingredients in a bowl and mix well. Toss cabbage & carrots in dressing and let sit in fridge for about half hour or so for flavors to blend together.
Prep Time: 15 minutes
Cook time: none
Total time: 45 minutes (includes refrigeration time)
Yield: 4 to 6 servings
Leave a Comment
XHTML: You can use these tags: <a href="" title=""> <abbr title=""> <acronym title=""> <b> <blockquote cite=""> <cite> <code> <del datetime=""> <em> <i> <q cite=""> <strike> <strong>