Balsamic Roasted Vegetables on Flat Bread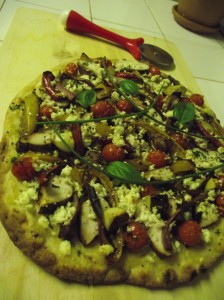 You can basically put anything on a nice piece of flat bread and it will be delicious. Pick combination's that you enjoy and you'll never be disappointed.
Here's a good one to try. I went with the staples of onions, peppers, garlic and tomatoes and topped it with Feta.
Ingredients
6 or 7 cherry tomatoes
1 small red pepper thinly sliced
1 small yellow pepper thinly sliced
1/2 red onion thinly sliced
5 cloves of garlic, cut in half
1 pre-made flat bread (you can make your own, just don't ask me how!)
2 tbsp tomato sauce
2 tbsp balsamic vinegar
1 tbsp olive oil
salt and pepper
1/4 cup feta cheese
Preparation
In a large bowl, mix balsamic and oil, salt and pepper and toss sliced peppers, onion, garlic and tomatoes.
Roast on a foil covered baking sheet at 250 for about an hour. (Or blacken them on a hot bbq to cut down on cooking time- though the slow roasting in the balsamic tastes better in my opinion)
Thinly coat flat bread in tomato sauce. Top with roasted veg and feta cheese. Bake at 350 for 12 minutes.
** Chicken is also an excellent addition if you wish to skip the vegetarianism.
Prep Time: 15 minutes
Cook time: 1 hour 15 minutes
Total time: 1 hour 30 minutes
Yield: 2 to 3 servings
© Copyright 2023 Kim Hatcher at figandpepper.com
Leave a Comment
XHTML: You can use these tags: <a href="" title=""> <abbr title=""> <acronym title=""> <b> <blockquote cite=""> <cite> <code> <del datetime=""> <em> <i> <q cite=""> <strike> <strong>