Stinging Nettle Soup with Minted Sour Cream By Guest Chefs @ Sooke Harbour House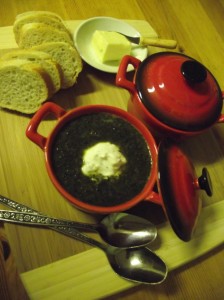 Nestled on a high bluff on the edge of BC and overlooking Sooke Harbour and the Straight of Juan de Fuca lays the world renowned Sooke Harbour House. Romantic, secluded and exclusive, this little gem has long been an extremely sought after destination. Lucky for me, the kitchen staff kindly decided to send me off a guest chef recipe and I have to say that the results were not at all what I expected. I've never cooked with stinging nettles before but this soup is an excellent introduction to the prickly little weed. It's incredibly rich and believe me when I tell you a little goes a long way but don't blame me if your mouth starts to water next time you see a nettle growing in the wild…
Ingredients
Soup
2 cups tightly packed stinging nettle leaves ***
3 cups chicken stock
1/2 cup celery thinly sliced
2 tbsp garlic thinly sliced
1 bay leaf
1 cup yellow onion coarsely chopped
1/2 cup salted butter
1/2 tsp salt
1/4 tsp pepper
Minted Sour Cream
3/4 cup sour cream
1 tsp fresh mint finely chopped
2 tbsp yellow onion finely chopped
Directions
Mix all ingredients for sour cream together, cover and refrigerate until right before serving.
In a medium pot over medium heat melt the butter and then add the celery & onion. Cook until translucent- about 10-15 minutes- and then add the garlic and cook for an additional 3 minutes. Add chicken broth and bay leaf and continue to simmer on low for another 10 minutes.
Add stinging nettles and simmer for 4 minutes.
Remove from heat and let cool for 10 minutes and then remove and discard bay leaf.
Blend soup on high until smooth then return to pot and bring to a fast boil right before serving.
Garnish with a heaping tbsp of chilled minted sour cream.
***For the stinging nettles I had to substitute 2 cups of fresh for 1 3/4 cups dried (for cooking, not "tea" nettles) as no fresh were available- the result was still excellent though I will try it again in the summer with fresh.
Prep Time: 20 minutes
Cook time: 45 minutes
Total time: 1 hours 5 minutes
Yield: 2 or 3 servings
© Copyright 2023 Kim Hatcher at figandpepper.com
Leave a Comment
XHTML: You can use these tags: <a href="" title=""> <abbr title=""> <acronym title=""> <b> <blockquote cite=""> <cite> <code> <del datetime=""> <em> <i> <q cite=""> <strike> <strong>