Slow Cooked Apple Garlic Ribs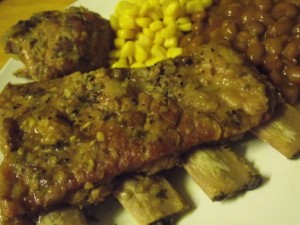 These are semi-slow cooked pork ribs so be prepared to wait. Trust me when I say that these are more than worth the wait. Whether you like your ribs juicy & dripping or dry and flavor packed- this is your recipe! To change up the flavors I sometimes substitute the apples with plumbs, apricots, or cherries.
Ingredients
1 Lg full rack of pork ribs cut into smaller pieces (4 is perfect)
1 lg apple, peeled, cored & diced
4 garlic cloves
1 cup BBQ sauce
couple of shakes of Tabasco sauce
1 tsp Dijon mustard
1 small onion sliced
1 tsp honey
1 tbsp apple cider vinegar
1 tbsp fresh parsley rough chopped
Directions
Put everything in a big food processor (other than the ribs, obviously) and blend it until it's chunky/semi smooth. Take the ribs and over a hot grill char them on both sides (about 2 minutes each side).
Dump the delicious mixture into a casserole dish and coat all sides of the ribs. Squish them into the dish and cover with the chopped onion.
Bake at 250 for at least 2 hours.
If you like "drier" ribs throw them on a hot grill for a minute per side right before serving.
Prep Time: 20 minutes
Cook time: 2 hours
Total time: 2 hours 20 minutes
Yield: 2 to 4 servings
© Copyright 2023 Kim Hatcher at figandpepper.com
Leave a Comment
XHTML: You can use these tags: <a href="" title=""> <abbr title=""> <acronym title=""> <b> <blockquote cite=""> <cite> <code> <del datetime=""> <em> <i> <q cite=""> <strike> <strong>