Cilantro Coconut Carrot Soup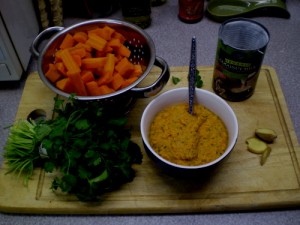 This recipe makes a thick and hearty soup that is perfect for cold winter nights. It's very easy, uses only a few readily available ingredients and takes almost no time to whip up.
Ingredients
1 can coconut milk
8-10 carrots
2 tbsp cilantro chopped fine
Fingernail sized piece of ginger diced fine
salt & pepper
Preparation
Chop carrots and boil or steam until soft. Put carrots cilantro and ginger in food processor with 1/3 of the milk. Blend until semi smooth, adding more milk as needed. Season with salt and pepper, heat, and serve with fresh bread.
Prep Time: 15 minutes
Cook time: 15 minutes
Total time: 30 minutes
Yield: 2 to 4 servings
© Copyright 2023 Kim Hatcher at figandpepper.com
Leave a Comment
XHTML: You can use these tags: <a href="" title=""> <abbr title=""> <acronym title=""> <b> <blockquote cite=""> <cite> <code> <del datetime=""> <em> <i> <q cite=""> <strike> <strong>