Home
»
Side Dishes
»
Sides
»
Puree Duo of Pea & Rosemary and Carrot & Parsley Served with Grilled Pork.
Puree Duo of Pea & Rosemary and Carrot & Parsley Served with Grilled Pork.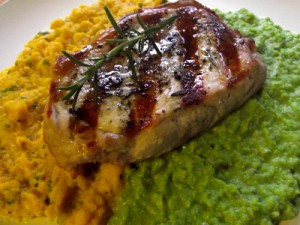 I love puree. If you think of baby food when you hear that then you haven't had a good one my friend. A true puree is a work of art- rich, creamy and delicious! Because my local farmers market has an almost overwhelming abundance of fresh veg, I went with shelling peas (which took me ages to shell) and fresh baby carrots. I've paired the purees with fresh herbs to give them depth and served it with a simple grilled boneless pork loin chop.
Ingredients
2 pork loin chops (or beef or chicken or even fish)
1 heaping tbsp of fresh rosemary (a big pinch of that is for the chops)
1 handful of fresh parsley rough chopped
1/2 white onion diced
5-6 fresh baby carrots
1 heaping cup freshly shelled peas
1+1 tbsp butter
splash of olive oil
salt & pepper
**a little milk or cream on the side for blending)
Directions
The pork is simply seasoned with salt & pepper and a sprinkle of fresh rosemary and then grilled for about 3-5 minutes per side depending on thickness
Carrot Puree
Chop your carrots and then steam until very tender (you can boil them but steaming keeps in all of their flavor) In a food pro or blender add cooked carrots, salt & pepper, chopped parsley, and 1 tbsp of butter. Blend until relatively smooth. Add a few drops of milk at a time while blending to get a good texture. You want it smooth but not soupy.
Pea Puree
Cook peas until very tender in boiling salted water. In a small pan saute diced onions and rosemary in olive oil until onion is transparent. Add peas, tbsp of butter, onion mixture and salt & pepper to the food pro and blend until smooth. Again, add the milk or cream just a little at a time until puree is soft.
**The most important part about getting a great puree is fresh veg and pairing it with a beautiful fresh herb (and of course the butter doesn't hurt either). Other great variations for these purees would be;
Carrots- Tarragon or ground fennel seed (or fennel fronds)
Peas- Mint or basil
© Copyright 2023 figandpepper.com
Leave a Comment
XHTML: You can use these tags: <a href="" title=""> <abbr title=""> <acronym title=""> <b> <blockquote cite=""> <cite> <code> <del datetime=""> <em> <i> <q cite=""> <strike> <strong>