Au Printemps Gourmet Foods
Today I had the opportunity to taste (or more accurately, gorge myself on) a selection of gourmet treats from Au Printemps Gourmet out of Quebec. These guys do everything- large orders for retail, small specialty orders and of course they have an incredibly large array of beautifully made (and award winning) products that are nothing close to ordinary. Truth be told- the flavors are fantastic!!!!
Caramelized Onion and Espelette Pepper Spread
This is absolutely my new favorite indulgence. It's a condiment meant to be spread on crackers or bread (which is exactly how I tried it) but I'm also dying to add it to mashed potatoes because I think it would be mind blowing. The first taste you get is that deep rich and unmistakable flavor of caramelized onions and then the heat of the espelette peppers creeps up on you. It's not overpowering, it's just enough to tell you it's definitely there and the addition of sweet raisins keep the fire in check. I'm having a hard time trying to think of something that this wouldn't be amazing on.
Fig & Apple Chutney
Given the name of this site, it's sort of a given that I'm a little partial to figs and this chutney brings their lush flavor out perfectly. I love the crunch of the seeds and the sweet crisp taste of apple. I also really like the texture of this chutney- it's a little smoother than most I've had which makes it great for everything from spreading to cooking to dipping. I can also imagine that it would be great in turkey stuffing. Forget cranberries, it's fig and apple now baby.
Blood Orange Balsamic Cream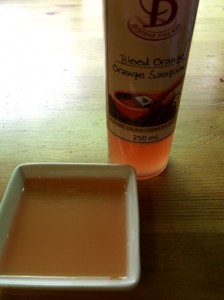 I have to admit that after pouring this into a small dish to sample with some bread, I quickly found myself slurping straight out of the bowl. I love balsamic vinegar and though I usually have several different types on hand, I've never tried a creamed balsamic. I had no idea what I was missing. It's a thick smooth reduction with a perfect balance of vinegar punch and succulent blood orange. I fear that this bottle will not last long as in my head I'm already marinating shrimp for the grill, making a billion salad dressings and sprinkling it on roasted veg. I also have to add that their suggested uses include adding it to club soda for an amazing summer drink. So I wasn't that far off the mark when I was slurping it out of the bowl.
This fantastic company is really worth looking into and if your local purveyor of fine foods doesn't carry any of there products, maybe it's time you asked them to.
© Copyright 2023 figandpepper.com
Leave a Comment
XHTML: You can use these tags: <a href="" title=""> <abbr title=""> <acronym title=""> <b> <blockquote cite=""> <cite> <code> <del datetime=""> <em> <i> <q cite=""> <strike> <strong>