Easy Red Wine Beef Stew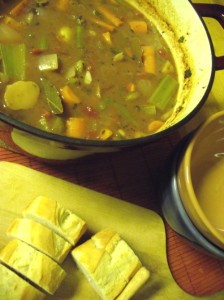 This is a delicious rustic stew that is perfect for family style dinners no matter how big the crowd is. Set it out with a giant bowl of garlic mashed potatoes and some crusty bread and you're all set. Feel free to throw in any other vegetables you like- mushrooms, green beans, whatever.
Ingredients
1 & 1/2 lbs Beef trimmed and cubed
4 tbsp butter
2 large cloves garlic roughly chopped
4 tbsp flour
2 tbsp parsley rough chopped
1 cup of red wine (a Merlot or Cab Sav would be best)
1 cup tomatoes diced
1/2 cup beef stock
1 tsp oregano
1 bay leaf
1 large onion roughly chopped
2 celery stalks roughly chopped
2 carrots roughly chopped
10-15 baby potatoes cut in halves or quarters depending on size
small splash of Worcestershire sauce
Directions
Melt the butter in a large oven safe stock pot or dutch oven, add salt, pepper, garlic and meat. Cook over medium high heat until meat is browned. Turn down heat and then sprinkle with flour and cook for 3 minutes. Add all remaining ingredients, mix well and throw it in the oven at 350 for about an hour. If you like a slightly thicker stew mix half water & half flour until it's smooth and pour it slowly into the stew about 10 minutes before it's cooked.
Prep Time: 20 minutes
Cook time: 1 hour 20 minutes
Total time: 1 hour 40 minutes
Yield: 4 to 6 servings
© Copyright 2023 Kim Hatcher at figandpepper.com
Leave a Comment
XHTML: You can use these tags: <a href="" title=""> <abbr title=""> <acronym title=""> <b> <blockquote cite=""> <cite> <code> <del datetime=""> <em> <i> <q cite=""> <strike> <strong>