Wine Braised Short Ribs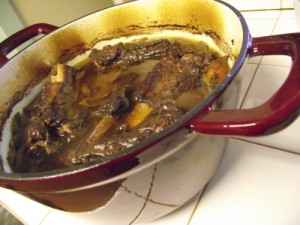 You'll need a bottle of red wine for this- don't go over the top expensive but don't buy crap either. Why would you cook with it if you wouldn't drink it? A full bodied Cabernet Sauvignon or Malbec would go great with this rich dish as would a spicy Shiraz/Syrah or Zinfandel. Have another bottle on hand to serve with this meal.
This dish takes a while but is very well worth the wait. A wonderful and hearty comfort food on a cold day.
Ingredients
6 or 8 nice chunks of short rib. You'll need that good mix of fat & meat.
couple of tbsp flour
tsp dried chilies
tsp cayenne
tbsp dried mustard powder
2 sprigs fresh thyme
3 or 4 whole bay leaves
2 lg onions
2 carrots
2 stalks celery
I med turnip
4 cloves garlic
1 tbsp oil
1/2 inch chunk of butter
salt & fresh ground pepper
1 tbsp tomato pureed or paste
5 fat mushrooms
heaping tbsp grainy mustard
heaping tbsp Dijon mustard
1 bottle of red wine (750 ml)
Preparation
Put flour, a few grinds of black pepper, dried mustard, cayenne & most of the dried chillies (saving a pinch for later) in to a ziplock and shake to completely coat ribs. Melt butter & oil in oven safe pan/dutch oven over med/high heat- add ribs & brown all sides- once it has nice colour, pull them out and set aside. Add chopped carrot, onion, turnip & celery (roughly chopped- all about same sized pieces) to dutch oven and stir for a few minutes. Add thinly sliced garlic, mushrooms cut into quarters, and tomato puree. Cook until mushrooms start to shrink down a bit- about 5 min. Drop ribs back into pot, dump in the bottle of wine, the fresh thyme, bay leaves and remaining pinch of chilies. Bring to a quick boil then cover with lid and pop that little pot of heaven into the oven. Let it cook at 300 for 2-3 hours or until meat pulls off with little effort. Right before serving stir in dijon & grainy mustard and a good dose of salt & pepper and serve.
Prep Time: 25 minutes
Cook time: 3 hours
Total time: 3 hours 25 minutes
Yield: about 6 servings
Leave a Comment
XHTML: You can use these tags: <a href="" title=""> <abbr title=""> <acronym title=""> <b> <blockquote cite=""> <cite> <code> <del datetime=""> <em> <i> <q cite=""> <strike> <strong>