Clams with Fennel and Wine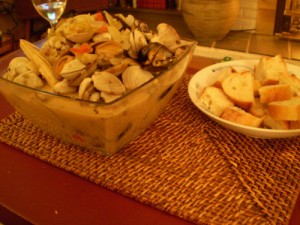 This is so easy that there really is no excuse for you not to make it. Well, except maybe a fatal allergy to shellfish… You can also throw in a few mussels if you like them because when you're talking about a big bowl of seafood… the more the merrier!
Clams cooked in a white wine is classic and the fennel with garlic and onion make this dish amazing. Easy to make and rich in flavor.
Ingredients
2-3 dozen clams (depending on how many you're feeding and whether you're adding mussels)
3 garlic cloves sliced fine
1 small white onion sliced fine
1 small fennel bulb washed and trimmed and sliced
1 bottle dry white wine
1/2 cup sliced peppers or tomato (optional)
1 tbsp butter
2 tbsp olive oil
Salt & pepper
Preparation
Rinse the shell fish well. In a large pot saute the garlic, onions and fennel over med heat until they begin to become transparent. Add the wine and bring to a boil. Add clams (and peppers or tomatoes if you're using them) stirring occasionally until clams start to open (about 5-7 minutes) Discard any unopened clams, sprinkle with salt & pepper and serve in broth with fresh bread.
Prep Time: 20 minutes
Cook time: 20 minutes
Total time: 40 minutes
Yield: 3 to 4 servings
© Copyright 2023 Kim Hatcher at figandpepper.com
Leave a Comment
XHTML: You can use these tags: <a href="" title=""> <abbr title=""> <acronym title=""> <b> <blockquote cite=""> <cite> <code> <del datetime=""> <em> <i> <q cite=""> <strike> <strong>