Easy Sweet and Sour Sauce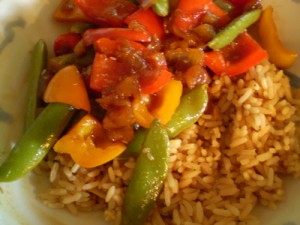 Use it to flavor a stir fry, veggies, rice, whatever. This sweet and sour sauce can be served with almost anything and is ready in about 5 minutes.
It's so easy to make and tastes great, you'll never want to buy a bottle of pre-made sweet and sour sauce again.
Ingredients
1 can pineapple pieces & juice

1/2 cup white vinegar

1/4 cup brown sugar

1 tsp soy sauce
Directions
In a large skillet heat up vinegar and add brown sugar stirring until fully dissolved. Add pineapple pieces and juice and soy and bring to a quick boil stirring constantly. Remove from heat and serve with whatever your little heat desires.
Prep Time: 5 minutes
© Copyright 2023 Kim Hatcher at figandpepper.com
Leave a Comment
XHTML: You can use these tags: <a href="" title=""> <abbr title=""> <acronym title=""> <b> <blockquote cite=""> <cite> <code> <del datetime=""> <em> <i> <q cite=""> <strike> <strong>