Amazing Beet & Fennel Dip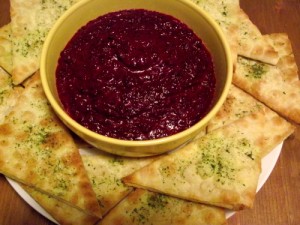 I've always loved beets and I can't understand why they're so underused! They're inexpensive, extremely versatile and good for you to boot! It has a super rich and creaminess to it that will have you dipping non-stop until the bowl is empty. This recipe calls for cooked beets and you can do them whatever way you prefer. My favorite is trimmed, rough chopped, and then wrapped in a foil package and roasted in the oven until just barely fork tender.
Ingredients
2 cups cooked beets chopped
1 tbsp fennel seeds
2 heaping tbsp sour cream
Zest from half a lemon
1/2 tsp dijon mustard
salt & pepper
Directions
This dip is so easy that you'll think I'm joking. Throw it all in a blender/food pro and blend until smooth.
Yup. That's it.
Serve with crispy flat bread or crackers.
Prep Time: 5 minutes
Cook time: 15 minutes
Total time: 20 minutes
Yield: 4 to 6 servings
© Copyright 2023 Kim Hatcher at figandpepper.com
Leave a Comment
XHTML: You can use these tags: <a href="" title=""> <abbr title=""> <acronym title=""> <b> <blockquote cite=""> <cite> <code> <del datetime=""> <em> <i> <q cite=""> <strike> <strong>