White Fish with Fennel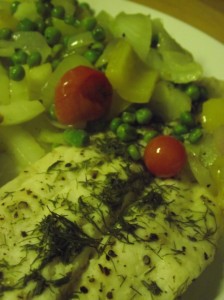 Fennel and white fish are the perfect pairing. Personally, I like fennel with almost anything. It's easy to find, easy to cook, very inexpensive and very versatile. For the white fish, my preference is usually Basa. It's commonly available as frozen fillets in many grocery stores.
Ingredients
1 med sized fennel bulb
1 small white onion diced
zest and juice from 1 lemon
1 clove garlic minced finely
salt and pepper
Diced yellow pepper and 3 or 4 cherry tomatoes
1/2 cup peas
2 white fish fillets
splash of olive oil
1tsp butter
Preparation
Zest the lemon and chop it finely. Add zest and lemon juice to bowl with garlic and mix well. Rough chop the fennel bulb including the lacy green leaves.
Saute the fennel, peppers and onions in oil and butter for 5 min. Add garlic and lemon mix and add fish, tomatoes and peas to pan. Cook over med heat for 6-7 minutes or until the fish is cooked straight through.
Prep Time: 15 minutes
Cook time: 12 minutes
Total time: 27 minutes
Yield: 2 servings
© Copyright 2023 Kim Hatcher at figandpepper.com
Leave a Comment
XHTML: You can use these tags: <a href="" title=""> <abbr title=""> <acronym title=""> <b> <blockquote cite=""> <cite> <code> <del datetime=""> <em> <i> <q cite=""> <strike> <strong>