Roasted Squash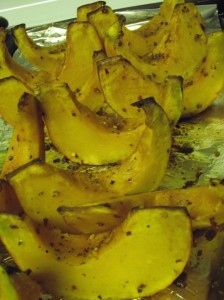 There is just something so comforting about roasted squash. It's warm and rich and goes with almost anything. This recipe uses an amber cup squash- they're naturally sweet and balance the spice very well but you can use any type of squash that you prefer.
Ingredients
I large squash, cleaned out and sliced into wedges.
about 12 or so coriander seeds, toasted in a dry pan (they burn quickly- watch them carefully!)
1/2 tsp paprika
1/2 tsp cumin
3 tbsp melted butter
1 tbsp brown sugar
1/2 tsp chili flakes
2 tbsp olive oil
Preparation
Mix all spices, melted butter and oil on a dinner plate. Dredge each piece of squash through mixture coating well.
Bake at 350 for 20 min or until tender.
sprinkle or salt and pepper
© Copyright 2023 figandpepper.com
Leave a Comment
XHTML: You can use these tags: <a href="" title=""> <abbr title=""> <acronym title=""> <b> <blockquote cite=""> <cite> <code> <del datetime=""> <em> <i> <q cite=""> <strike> <strong>