Red Onion Jam & A Fig & Walnut Tapenade by Guest Chef Natasha Schooten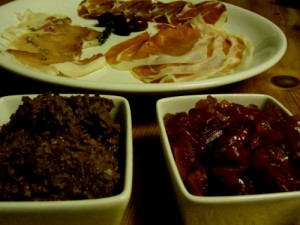 As Luck would have it, Guest Chef Natasha Schooten of The Watermark Beach Resort sent me a guest recipe of condiments for a charcuterie plate on the very day that a box of delicious cured meats arrived from Niagara Specialty Foods (more on that goodness in Artisan and Specialty products section)
Chef Natasha, who currently calls sunny Osoyoos, BC home, is very quickly becoming a force to be reckoned with on the Canadian food scene and being recognized for her passion for both sustainable and local products. These two condiment recipes are so easy that I thought I was missing something. I wasn't and they are both amazing. Next time dinner consists of munching on meats and cheeses or you have guests over for appies- try these two sides- you will not be disappointed!
Red onion Jam
6 Red onions julienned
2 Tbsp vegetable oil
2 tsp salt
12 tbsp sugar
25 ml red wine
100 ml grenadine
Sweat the onions with 8 Tbsp of the sugar, salt & oil on med heat (about 10 minutes) Add remaining sugar, red wine & grenadine and cook down for about an hour, stiring regularly.
Seriously. That's it. It's that easy and unbelievably delicious.
Fig & Walnut Tapenade
1 cup dried figs (reconstituted in warm water for a few minutes)
1 cup pitted Kalamata Olives
4 Tbsp extra virgin olive oil
4 Tbsp Balsamic vinegar
2 Tbsp capers
3 Tsp Fresh thyme
2.5 cups toasted & chopped walnuts.
Dump all of this goodness in your food processor and puree. Again, it's ridiculously easy and turns into something soooo yummy.
Both recipes make a fairly high yield so share with friends (or if you're like me, hog it all to your self!)
Thanks Chef Natasha- I loved these!
© Copyright 2023 Kim Hatcher at figandpepper.com
Leave a Comment
XHTML: You can use these tags: <a href="" title=""> <abbr title=""> <acronym title=""> <b> <blockquote cite=""> <cite> <code> <del datetime=""> <em> <i> <q cite=""> <strike> <strong>