Olive Oil and Fig Cakes- Feisty Chef
This recipe was graciously supplied by The Feisty Chef- aka Chef Renée Lavallée from Dartmouth Nova Scotia. Check out her blog or her weekly food column in the Halifax Chronicle Herald.
I was a little concerned when I saw that it involved baking as this is not my forte, however, it also involves my own personal Holy Trinity; Figs, Rosemary, and Pine nuts, so obviously I had to give it a whirl. I still can't believe how easy it was and how freaking delicious. This is going to become a standard in my house, and as per our guest chef's suggestion, I served it with some beautiful cheeses and a savory pate. The smell of the loaves cooking was pure heaven.
Ingredients
4 eggs
3/4 c sugar
2/3 c olive oil
1 tbsp chopped rosemary
1 1/2 c flour
1 tbsp baking powder
1/4 c toasted pine nuts
1/4 c chopped dried figs
pinch of salt
Preparation
Pre heat oven to 325. Cream together the eggs with the sugar and olive oil. Add the rosemary and dried ingredients and fold in the nuts and figs. Into greased and floured loaf pan and bake for 40-45 minutes depending on size. Will make one 10″ loaf or about a dozen minis. I did 3 half sized loaves that turned out beautifully.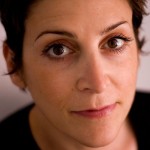 Thanks Feisty Chef!
Prep Time: 20 minutes
Cook time: 45 minutes
Total time: 1 hour
Yield: 1 10″ loaf
© Copyright 2023 Kim Hatcher at figandpepper.com
Leave a Comment
XHTML: You can use these tags: <a href="" title=""> <abbr title=""> <acronym title=""> <b> <blockquote cite=""> <cite> <code> <del datetime=""> <em> <i> <q cite=""> <strike> <strong>