Lemon Tyme Potato Salad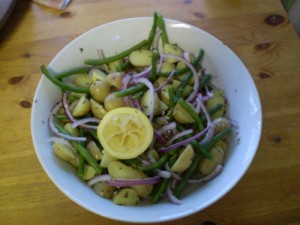 This is my favorite summer salad of all time. Make it the night before and let it sit in the fridge so the flavors can marry. This salad is just so versatile it goes with anything! Fantastic with BBQ steaks, pork chops, hamburgers and grilled fish, or on it's own as a lunchtime snack.
Ingredients
2 lemons
About 15 baby new potatoes
2 sprigs fresh thyme
1 red onion
A big splash of apple cider vinegar
2 cloves of garlic
Hand full of trimmed green beans
salt & pepper
Preparation
Half or quarter the potatoes depending on size. Boil the potatoes & green beans (cooked, but still firm- not mushy.) Strain them and leave to cool. Zest one lemon into a large bowl then add juice from both. Add a good splash of apple cider vinegar & garlic cloves, finely chopped. Sprinkle with salt & pepper and add half a red onion, thinly sliced. Chop the hell out of the thyme leaves and add cooled potatoes & beans. Stick it in the fridge rotating mixture regularly. Serve cold.
Prep Time: 15 minutes
Cook time: 30 minutes
Total time: 45 minutes (plus the overnight refrigeration)
Yield: 4 to 6 servings
© Copyright 2023 Kim Hatcher at figandpepper.com
Leave a Comment
XHTML: You can use these tags: <a href="" title=""> <abbr title=""> <acronym title=""> <b> <blockquote cite=""> <cite> <code> <del datetime=""> <em> <i> <q cite=""> <strike> <strong>