Thyme and Lemon Roasted Ham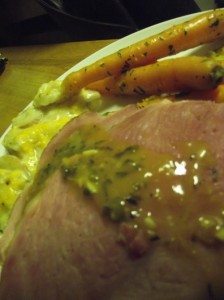 Nothing says comfort food like a giant roast ham. Slowly roasted in your home kitchen with the smells wafting through the entire house. Does that thought make you salivate? Now add a touch of lemon and thyme to that mental image. Yum!
This lemon and thyme sauce is very concentrated so when serving, make sure your guests know to pour it sparingly or it will overpower everything else on the plate.
Ingredients
3.3 kg ham
1 tbsp Dijon mustard
2 tbsp fresh thyme roughly chopped
the zest and juice from 1 large lemon
salt & pepper
Preparation
Blend all ingredients. Pat ham dry and cover with mustard thyme mixture. Bake at 350 for about 2 hours.
While the ham is resting, take the juice from the pan and reduce it until slightly thickened and serve with ham.
Prep Time: 15 minutes
Cook time: 2 hours
Total time: 2 hours 15 minutes
Yield: 8 to 10 servings
© Copyright 2023 Kim Hatcher at figandpepper.com
Leave a Comment
XHTML: You can use these tags: <a href="" title=""> <abbr title=""> <acronym title=""> <b> <blockquote cite=""> <cite> <code> <del datetime=""> <em> <i> <q cite=""> <strike> <strong>