Masala Crusted Pork Chops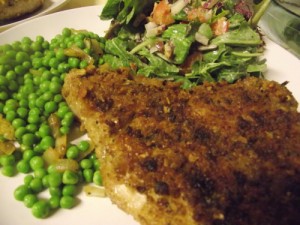 Masala is a traditional Indian spice mixture and it goes quite well with pork. Here we mix it into a breadcrumb mixture for a nice spicy crust on pork chops. You can make your own masala mix however, unless you intend to use it a lot in your cooking it may be easier to buy premixed given the amount of spices you would need to make your own.
Ingredients
1 tbsp masala** spice mix
1/2 tsp dried chili flakes
1/4 tsp onion powder
1/4 tsp garlic powder
sprinkle of salt & pepper
1 cup fine bread crumbs
1 egg
1/4 cup flour
2 large pork chops, trimmed
1 tsp oil for frying
Preparation
Mix together all dry ingredients. Mix half into flat plate of bread crumbs and place other half on separate flat plate. Beat egg with a small splash of water and place in a bowl large enough to coat chops. Place flour on flat plate (breading station)
Pat remaining spice mixture onto both sides of chops then dredge through flour. Next dredge through egg and then coat with seasoned bread crumbs. Fry in a large skillet over med heat until cooked through and crispy.
**Masala is an Indian spice mixture that can be purchased pre-mixed from most major supermarket chains.
Prep Time: 20 minutes
Cook time: 15 minutes
Total time: 35 minutes
Yield: 2 servings
© Copyright 2023 Kim Hatcher at figandpepper.com
Leave a Comment
XHTML: You can use these tags: <a href="" title=""> <abbr title=""> <acronym title=""> <b> <blockquote cite=""> <cite> <code> <del datetime=""> <em> <i> <q cite=""> <strike> <strong>