KFC or Korean Fried Chicken!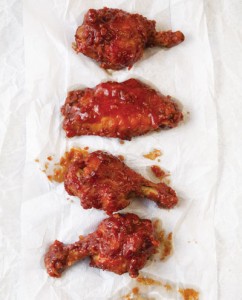 These delicious looking little beauties were recommended to me from Cathy Danh at gastronomy after I mistook her tweet about KFC for Kentucky Fried Chicken. She wrote about her KFC favorite (that's KOREAN fried chicken!) for the fine folks over at Saveur and I get to benefit from my mistake by scooping up this fantastic looking recipe! I'm hoping to give this a whirl in the next couple of weeks so if anyone out there tries it before I do- give me a holler and tell me how it went!
Photo: Andre Baranowski
Ingredients
Canola oil, for frying
5 cloves garlic
1 1 & 1/2″ piece peeled ginger
3 tbsp. soy sauce
3 tbsp. gojujang (Korean chile paste)
1 1/2 tbsp. rice vinegar
1 tbsp. Asian sesame oil
1 tbsp. honey
2/3 cup flour
1 tbsp. cornstarch
16 chicken wings (about 1 & 3/4 lbs.)
Preparation
1. Pour oil into a 6-qt. pot to a depth of 2″. Heat over medium-high heat until a thermometer reads 350 degrees. Chop garlic and ginger in a food processor. Add soy, gojujang, vinegar, sesame oil, and honey; purée. Put sauce into a bowl.
2. Whisk flour, cornstarch, and 2/3 cup water in another bowl. Add chicken; toss. Working in 3 batches, fry chicken until golden, 6–8 minutes. Drain on paper towels. Return oil to 350 degrees. Fry chicken until crisp, 6–8 minutes more. Drain again. Toss chicken in sauce.
© Copyright 2023 figandpepper.com
Leave a Comment
XHTML: You can use these tags: <a href="" title=""> <abbr title=""> <acronym title=""> <b> <blockquote cite=""> <cite> <code> <del datetime=""> <em> <i> <q cite=""> <strike> <strong>