Easy Chicken Parm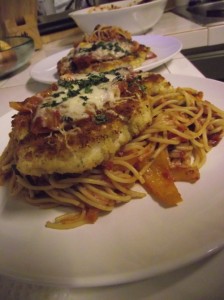 I'm not Italian so don't yell at me about being authentic. This is an easy version of a fantastic classic that I've made up by taste, not by national pride. Just because I'm not Italian doesn't mean I can't make a pretty damn wicked version of Chicken Parmesan.
Ingredients
2 chicken breasts
1 cup bread crumbs (homemade are the best- just food pro stale bread ends until they reach the desired texture. No oil needed.)
1/2 tsp oregano
1/2 tsp garlic powder
1 tsp chopped parsley
salt and pepper
about 2 tbsp grated Parmesan cheese
about a cup of pre or home made tomato pasta sauce
1 large egg
4 tbsp vegetable oil
1/2 cup of flour
Preparation
Pound out 2 chicken breasts until relatively flat but not so thin that it's tearing.
Season chicken with salt and pepper.
Heat oil in large pan and set up breading station (plate of flour, dish of beaten egg, plate of bread crumbs).
Season bread crumbs with garlic powder, oregano and half of chopped parsley.
Dredge chicken through flour, coat with egg and then cover well with seasoned bread crumbs. Fry over med heat until cooked through.
Heat tomato sauce.
Place chicken on a foil lined baking sheet, top with good dollop of tomato sauce and Parmesan cheese and broil for a minutes or so until cheese is melted. Garnish with remaining parsley.
Serve over tomato pasta.
Prep Time: 15 minutes
Cook time: 15 minutes
Total time: 30 minutes
Yield: 2 servings
© Copyright 2023 Kim Hatcher at figandpepper.com
Leave a Comment
XHTML: You can use these tags: <a href="" title=""> <abbr title=""> <acronym title=""> <b> <blockquote cite=""> <cite> <code> <del datetime=""> <em> <i> <q cite=""> <strike> <strong>