Tomato & Balsamic Salsa with Basil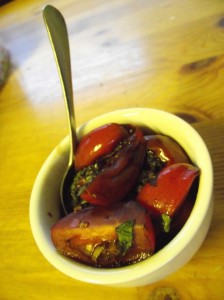 This is the perfect accompaniment to white fish, grilled chicken breasts or even a nice fat steak. Adjust your quantities according to how many servings you want allowing for about 4 berry tomatoes per person.
Ingredients
8 firm berry tomatoes (slightly larger than cherry tomatoes) cut into quarters
1 clove garlic finely minced
6 or 7 fresh basil leaves rough chopped
2 tablespoon balsamic vinegar
1/2 teaspoon olive oil
Good sprinkle of salt & fresh ground pepper
Preparation
Mix all ingredients together in a small bowl, cover with plastic wrap and let sit in fridge until needed- 2 or 3 hours is ideal. Just before serving empty bowl into a skillet and simmer over med- low heat until tomatoes start to soften but don't lose their shape. Spoon mixture over fish or chicken or whatever else your little heart desires.
© Copyright 2023 figandpepper.com
Leave a Comment
XHTML: You can use these tags: <a href="" title=""> <abbr title=""> <acronym title=""> <b> <blockquote cite=""> <cite> <code> <del datetime=""> <em> <i> <q cite=""> <strike> <strong>