Fast & Easy Guacamole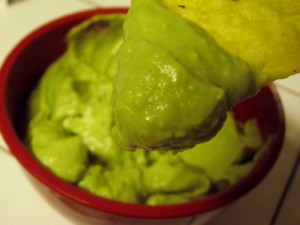 Guacamole and salsa are the easiest things in the world to make and yet I see people buying the pre-made stuff everyday. I've already posted my salsa recipe and once you see how easy the guacamole is I guarantee you'll never buy the pre-made tub again. This is the perfect side dish for a Mexican night or just to add a little more punch to a snack of chips and salsa. Trust me on this! Give it a try!
Ingredients
2 very ripe avocados
pinch of cayenne pepper
pinch of smoked paprika (or regular if that's all you have)
salt & pepper
1tbsp lemon juice (for flavor AND keeps the avocado from turning brown)
1 tbsp very finely diced red pepper
**1 tsp milk if needed
Directions
Ok- hang on to your hat because this is going to go fast.
Scoop out the flesh of the avocados, throw everything into your food processor and blend until smooth, using the milk only if needed.
Yup, that's it. Guacamole. Seriously. So Easy!
Prep Time: 5 minutes
Cook time: 0 minutes
Total time: 5 minutes
Yield: 4 servings
© Copyright 2023 Kim Hatcher at figandpepper.com
Leave a Comment
XHTML: You can use these tags: <a href="" title=""> <abbr title=""> <acronym title=""> <b> <blockquote cite=""> <cite> <code> <del datetime=""> <em> <i> <q cite=""> <strike> <strong>