Wild Mushroom & Squash Soup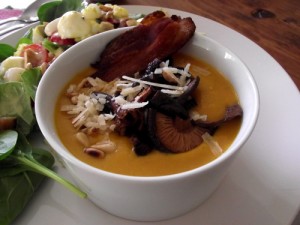 This soup is definitely in my top 5 all time favorites. There is a deep and complete flavour from the mushrooms and yet it is still a simple soup to prepare. It's a show stopper every time and perfect for a winter lunch. This recipe calls for dried mushrooms rather than fresh and there are two reasons for this. First, there easy to find no matter what the season and secondly, the water that you use to re-hydrate them is what makes the base of the soup so rich and luscious. I like to use a mix of porcine, chanterelle & shiitake, but any will work. Vegetarians can skip the bacon and sub the chicken stock for veg.
Ingredients
2 cups dried mix wild mushroom broken/chopped into bite size pieces
1 lg buttercup or butternut squash
1 med onion diced
1 whole head garlic
2 sprigs fresh thyme
1/4 grated Parmesan cheese (divided in half)
2 tbsp toasted pine nuts
2 tbsp butter
1/3 cup cream
1/2 slice of bacon per person
1/2 tsp nutmeg
salt & pepper
splash of olive oil
Directions
Quarter the squash, remove the seeds, and put it skin side down on a parchment or foil lined baking sheet. Slice the garlic head through the center so that all of your cloves are halved and distribute the pieces evenly over the squash along with the fresh thyme. Sprinkle with salt & pepper, nutmeg, and then drizzle with olive oil. Bake the squash at 350 until very fork tender and set aside.
Place mushroom pieces in 3 cups of boiling water, cover and set aside to re-hydrate for at least 20 minutes. Fry bacon slices until crispy and set aside. Drain most of the bacon fat and then in the same pan, saute the onions until soft and transparent. Remove flesh from squash and add it to the onions, sprinkle with half of the Parmesan cheese and cook over medium heat for about 2-3 minutes. Remove mushrooms from water and set water aside for cooking. In a food processor or blender add in squash & onions, butter, and the garlic & thyme that the squash was roasted with. Blend until smooth, adding enough mushroom water to make a fairly thick but smooth mixture.
Place a sieve over a soup pot and strain squash mixture into pot. (This is not an essential step but it does make it extra smooth) Cook squash mixture over medium heat, stirring constantly and adding mushroom water a bit at a time until it is the thickness that you like. Sprinkle in a little salt and pepper to taste and bring up to a boil and add cream. Remove from heat after a couple minutes and pour into bowls. Place a handful of wild mushrooms in the center of each bowl, sprinkle on remaining Parmesan, pine nuts and garnish with slice of bacon. Serve with crusty bread for dipping.
Prep Time: 20 minutes
Cook time: 1 hour
Total time: 1 hours 20 minutes
Yield: 4 servings
© Copyright 2023 Kim Hatcher at figandpepper.com
2 Comments on "Wild Mushroom & Squash Soup"
Leave a Comment
XHTML: You can use these tags: <a href="" title=""> <abbr title=""> <acronym title=""> <b> <blockquote cite=""> <cite> <code> <del datetime=""> <em> <i> <q cite=""> <strike> <strong>