Easy Chili Relleno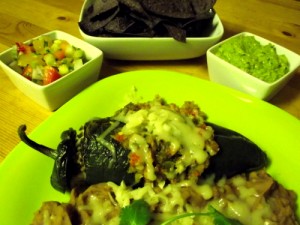 I'm a huge fan of Mexican food and this is a quick and easy way to get my fix! I can't always find poblano peppers where I live but whenever they appear, you can bet I'm all over it! If you can't find then, you can sub in large banana peppers but stay away from stuffing bell peppers as they will end up more Mediterranean than Mexican. You can also prep these hours ahead of time and just pop them in the oven when you're ready! This recipe is for 4 large peppers but doubles or triples easily for larger groups!
Ingredients
4 poblano peppers
1 jalapeno pepper
2 cups cooked rice
2 cups cooked ground beef
2 cups grated Monterey Jack cheese
1 tsp chili flakes
2 garlic cloves
1 lg tomato
1 tomatillo (omit if you cannot find one)
1 small red pepper
1 small onion
pinch of oregano
pinch of cayenne
pinch of onion powder
1/2 tsp smoked paprika
salt & pepper
Directions
Cut the top off of your peppers, remove the seeds and then grill them on a hot BBQ until slightly charred and softened.
Mix all ingredients except meat, cheese & rice and blend in a food processor until it's a runny looking soup. Mix half with the meat & rice and save the other half to use as sauce on top of peppers. Now add 3/4 of the cheese and blend together. Stuff the peppers very full and lay on a foil lined tray. Top with remaining tomato mixture and bake at 350 for about 15 minutes and then sprinkle on remaining cheese. I like to serve these bad boys with a little fresh salsa, guacamole, tortilla chips and re-fried beans. Yummmmmm!
Prep Time: 15 minutes
Cook time: 35 minutes
Total time: 50 minutes
Yield: 4 servings
© Copyright 2023 Kim Hatcher at figandpepper.com
One Comment on "Easy Chili Relleno"
Leave a Comment
XHTML: You can use these tags: <a href="" title=""> <abbr title=""> <acronym title=""> <b> <blockquote cite=""> <cite> <code> <del datetime=""> <em> <i> <q cite=""> <strike> <strong>