Home
»
Appetizers
»
Oceanwise Prawns, Garlic & Chorizo by Guest Chef Matthew Batey at Mission Hill Winery
Oceanwise Prawns, Garlic & Chorizo by Guest Chef Matthew Batey at Mission Hill Winery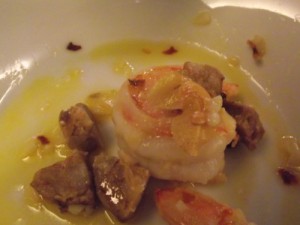 Chef Matthew Batey, Executive Chef at Mission Hill Winery was gracious enough to be my latest guest Chef with all of the amazing recipes we went over the night I attended one of his fantastic cooking classes. This first one is such a simple dish but really packs a punch and as Chef Batey is a great champion of fresh and sustainable ingredients making sure that you get oceanwize prawns for this recipe is a must! Trust me, you will taste the difference and feel good about it as well. This recipe serves 4 but can easily be doubled or tripled.
Ingredients
3.5 tbsp butter
2 tbsp extra virgin olive oil
6 garlic cloves ( 4 minced & 2 sliced thin)
1 chorizo sausage diced
3 pieces smoked chilies (or a shake of dried chilies)
12 prawns peeled & de-veined
1 tbsp sherry
Directions
Heat the butter & oil in a pan over medium heat. Add the sliced garlic and cook until it begins to get crispy and then remove the garlic (reserving the oil in the pan) blot excess oil & reserve for later. Add chorizo to the pan and saute until it starts to crisp, add the chillies. Next, add the prawns and the sherry and a sauce will begin to form as the butter and sherry reduce together. Cook the prawns until they turn pink and begin to curl and then serve in warm bowls with crispy garlic chips on top.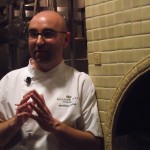 See? Chef quality food that's fast and easy. A great big thanks again to Chef Matthew Batey and to Mission Hill Winery.
Makes 4 servings
Prep Time: 10 minutes
Cook time: 10 minutes
Total time: 20 minutes
© Copyright 2023 Kim Hatcher at figandpepper.com
Leave a Comment
XHTML: You can use these tags: <a href="" title=""> <abbr title=""> <acronym title=""> <b> <blockquote cite=""> <cite> <code> <del datetime=""> <em> <i> <q cite=""> <strike> <strong>