Savory Potato Pancakes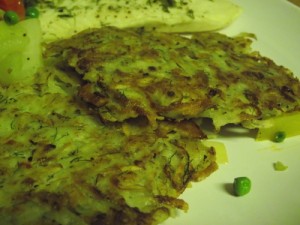 You can use this as a side or as the whole dish if you add some cooked fruit or meat. I like it as a side for fish or chicken.
Ingredients
2 large russet potatoes grated
1 large onion finely diced
1 egg
2 tbsp rice flour
1/2 tsp onion powder
salt & pepper
enough vegetable oil to fry
Preparation
Grate potato and rinse lightly. Squeeze through cheese cloth or push through sieve until mostly dry. Mix in all remaining ingredients and blend well. Form into tight patties and pan fry on med heat until crispy. Don't fry on high as they will become crispy well before the potato shavings are cooked through.
© Copyright 2021 figandpepper.com
Leave a Comment
XHTML: You can use these tags: <a href="" title=""> <abbr title=""> <acronym title=""> <b> <blockquote cite=""> <cite> <code> <del datetime=""> <em> <i> <q cite=""> <strike> <strong>