Why a Local Butcher is Better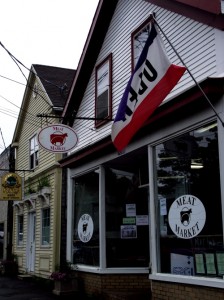 Before I start- let me just say that I know not everyone is as lucky as I to live in Nova Scotia's Annapolis Valley- where I'm surrounded by artisan cheese makers, tiny specialty bakeries, wineries, and more local farmer's markets than I could shake a wooden spoon at. (Don't hate me- even I can't believe how lucky I am)
However… Having said that, chances are that whether you live in a big city or a tiny village there is a local butcher within an hour drive, and I'm going to tell you why it's always worth the trip.
We moved across the country to this small village in Nova Scotia just a few weeks ago but I'm already on a first name basis with my local butcher at the Canning Village Meat Market. There is something really fantastic about walking through the squeaky wooden door and calling out "Hey Andrew! can you cut me a couple of really nice fat sirloins?" Not only is the care, quality, packaging, and actually butchering skill amazing, but the selection is truly something to drool over. House made corned beef and sausages (the Italian is unbelievable!!!) house smoked bacon, bison burgers, and almost every cut of beef or pork that you could possibly dream of, including custom cut family packs of beef, pork, & chicken.
Those things, though more than enough to make me happy, aren't the only reasons that will keep me coming back. For me, it's also about shopping local and supporting those family run businesses that are truly passionate about their craft and serving their community. My local butcher shop has been in business so long that owner Oscar Huntley and son Andrew only have hints of its long history, including a photo displayed in the shop depicting the store front as early as 1904, and the documented fact that it survived devastating fires in both 1866 & 1868 that razed most of the businesses on Canning's Main St.
I often hear people complaining about what shops and services are lacking in their areas- particularly smaller rural ones- and yet these are often the same people who will think nothing of heading out to a big box store to load up. If you want local businesses in your area, then as a consumer, you need to support them. Believe me when I say, the dollars spent locally are worth every penny and will benefit your entire community.
Now if you'll excuse me, Tanya from the butcher shop wrapped me up some rather amazing hot pepperoni that I've be dying to sink my teeth into!
5 Comments on "Why a Local Butcher is Better"
Leave a Reply to kim
XHTML: You can use these tags: <a href="" title=""> <abbr title=""> <acronym title=""> <b> <blockquote cite=""> <cite> <code> <del datetime=""> <em> <i> <q cite=""> <strike> <strong>