Monthly Tasting Menu & Wine Pairing at The Brownstone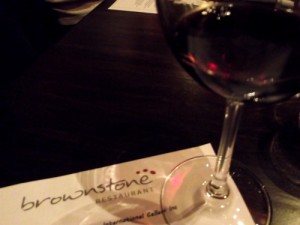 It's no secret that I love The Brownstone Restaurant. Run by the warm and welcoming husband and wife team of Dale and Connie Decaire, it's one of those places that will quickly become a favorite as soon as you walk in the door. I love everything from the beautiful circa 1904 building it's housed in- complete with a brick courtyard that's perfect for summer dining- to the amazing food that Chef Dale sends out of his tiny open kitchen. Since I'm already such a fan, who knew that the Decaires could go ahead and do something that would make me love the place even more?! Well, they did.
With the exception of July and August, The Brownstone offers a tasting menu with wine pairing on the 3rd Sunday of every month (though it may vary for some months). While the 3 to 5 course menus and wines featured change monthly by varietal or vineyard, what doesn't change is the atmosphere. Set up with family style seating and open discussions hosted by Claude Royer in between each course, it's a great way to sample several dishes and learn why they pair well with certain wines. The best part? You don't have to be a wine aficionado to enjoy the monthly gatherings, you just have to want to put delicious things in your mouth and have a few laughs. There were 4 other couples at our table and by the end of the second course we were all chatting away like old friends. (Hi Lise!) You just can't help but be comfortable- and given the quality of the food and service- you just can't help but leave very happy. Here is the menu and wine pairings that we enjoyed at their December tasting event, but first, some of the pictures to wet your appetite…
1st Course: Fresh Pickled Kusshi Oyster with cucumber Capellini on a bed of clove and anise scented salt paired with Segura Viudas Brut
2nd Course: Potato wrapped prawns with quince chutney paired with Tommasi Pinot Griggio "Le Rosse"
3rd Course: Open faced wild mushroom ravioli with madeira cream paired with Tommasi Merlot "Le Prunee"
4th Course: Seared duck breast with star anise & dried cherry sauce on risotto paired with Tommasi Poggio al Tufo Rompicollo
5th Course: Smoked preserved Ahi tuna tonnato with anchovy mayo paired with Valpolicella Superiore Ripasso
And because we couldn't resist we stayed after the tasting and enjoyed another glass of wine from their fantastic selection as well as the dessert sampler which was a trio of house made baklava, cinnamon cream brule & sticky toffee pudding. If you're drooling by now- as you should be- give Connie a call at 250-851-9939 as the 50 or so seats available sell out quickly.
The Brownstone Restaurant is located at 118 Victoria Street, Kamloops, BC
© Copyright 2021 figandpepper.com
Leave a Comment
XHTML: You can use these tags: <a href="" title=""> <abbr title=""> <acronym title=""> <b> <blockquote cite=""> <cite> <code> <del datetime=""> <em> <i> <q cite=""> <strike> <strong>