French Onion Soup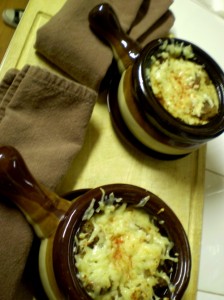 There is absolutely no reason to ever eat French Onion Soup out of a can. I can't even imagine it. This takes some time because of the caramelized onion but it is very well worth it.
Ingredients
1 cup red wine
4 or 5 cups beef stock (or one of those liter boxes if you don't make your own)
2 large sweet onions
1 tbsp butter (the real stuff, not marg)
1 tbsp olive oil
tsp mustard powder
about 1/2 cup Swiss or smoked Gruyere cheese
couple of slices of baguette
2 Oven safe french onion soup bowls
Preparation
Slice up onions and saute them in butter and olive oil. Cook over medium heat stirring every now & then for about 1 hour until they're a pan of golden brown caramelized goodness.
While the onions are cooking put on a pot of beef stock. Drop in garlic cloves, mustard powder and red wine and simmer while onions are cooking.
Grate the cheese and lightly toast the slices of baguette under the broiler. Once the onions are ready add them to the beef stock and bring to a boil. Turn down the heat and let it simmer for 15 min. Fill soup bowls, put in toasted bread and top with cheese. broil on high until cheese is brown and bubbly. Serve with bread and slices of hot Genoa or some other yummy rich sausage.
Oh yeah. That's the goods.
Prep Time: 15 minutes
Cook time: 1 hour 25 minutes
Total time: 1 hour 40 minutes
Yield: 2 to 3 servings
© Copyright 2023 Kim Hatcher at figandpepper.com
One Comment on "French Onion Soup"
Leave a Comment
XHTML: You can use these tags: <a href="" title=""> <abbr title=""> <acronym title=""> <b> <blockquote cite=""> <cite> <code> <del datetime=""> <em> <i> <q cite=""> <strike> <strong>