Tomato Feta Salad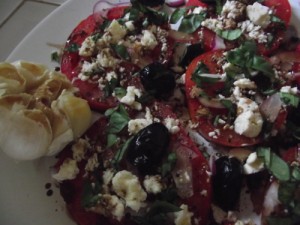 This salad is an absolute favorite of mine because of the combination of rich fresh flavors. It looks impressive at dinner but is deceptively easy to make for large or small groups. There is another version here that I also love and that is easier to eat if you're serving it at a cocktail or appy party.
Ingredients
Slice thick wheels of tomatoes, about 3 per person (I like to use romas because they tend to hold together better but any type will work)
About a 3rd of a thinly sliced red onion
4-5 cloves of garlic chopped in half and roasted until soft (you can do this the day before, just stick them in foil with a little olive oil on 350 for about 20 min.)
half a cup of crumbled feta cheese
a dozen or so pitted olives (kalamata or sundried black olives are best)
4 or 5 roughly chopped fresh basil leaves
Preparation
Arrange the tomatoes and then top with all other ingredients. Season with lots of fresh black pepper, a sprinkle of salt and then drizzle with about a tbsp of olive oil and 2 tbsp of balsamic vinegar.
Prep Time: 15 minutes
Cook time: 20 minutes (roasting the garlic)
Total time: 35 minutes
Yield: 4 to 5 servings
© Copyright 2023 Kim Hatcher at figandpepper.com
Leave a Comment
XHTML: You can use these tags: <a href="" title=""> <abbr title=""> <acronym title=""> <b> <blockquote cite=""> <cite> <code> <del datetime=""> <em> <i> <q cite=""> <strike> <strong>