Savory Fig & Onion Tart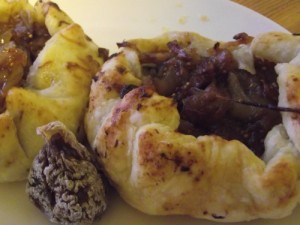 This recipe works great for one large pie/tart, a couple of medium ones or many small ones for bite sized appetizers. It all depends on how large you cut your dough circles. These onion tarts are very rich so if you're serving it as an entree, pair it with something light like salad greens tossed in oil & balsamic.
Ingredients
5 large onions
2 tbsp balsamic vinegar
4 packaged fancy figs (or 2 very ripe fresh figs)
2 tbsp butter
2 tbsp olive oil
salt & pepper
1 roll of thawed pastry dough
1 egg white
1 tsp fresh thyme (optional as to taste)
Preparation
Slice onions and cut rounds in half. Melt butter and oil in large skillet on med/high heat. Add onions, sprinkle with salt and stir until transparent. Turn heat to low and continue cooking onions, stirring occasionally for 45 min or until caramelized. Add a few grinds of fresh pepper, balsamic vinegar and roughly chopped figs in last 10 min of cooking.
Roll out dough and cut into circles.
Spoon onion mixture into center & fold edges in so that a small circle of onions are still visible in the center. Brush lightly with beaten egg white and bake on foiled baking sheet @ 350 until golden brown 15-20 min depending on size of tart rounds.
Prep Time: 30 minutes
Cook time: 1 hour
Total time: 1 hour 30 minutes
Yield: 4 servings
© Copyright 2023 Kim Hatcher at figandpepper.com
Leave a Comment
XHTML: You can use these tags: <a href="" title=""> <abbr title=""> <acronym title=""> <b> <blockquote cite=""> <cite> <code> <del datetime=""> <em> <i> <q cite=""> <strike> <strong>