Salsa Baked Eggs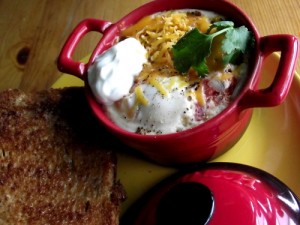 Perfectly poached eggs cooked in bubbly hot salsa is the perfect way to start any day! This is sort of a huevos rancheros, or my version at least. I like it best with a really spicy hot salsa but since you're making it yourself you can have it as mild or as hot as you prefer!
Ingredients
2 eggs per person
1 can diced tomatoes
2 cloves garlic
2 tbsp chopped cilantro
1 jalapeno
1 small onion diced
Tabasco to taste
grated cheddar & sour cream to garnish
Salt & pepper
Directions
Mix all of the salsa ingredients together and set aside in the fridge. In small oven safe bowls spoon in enough salsa to cover bottom and crack in two eggs. Gently top with more salsa, cover, and bake at 400 for 12-14 minutes or until eggs are to your desired doneness. Top with Grated cheddar and sour cream. Serve with toast or tortilla.
Prep Time: 25 minutes
Cook time: 15 minutes
Total time: 40 minutes
Yield: 2 servings
© Copyright 2023 Kim Hatcher at figandpepper.com
2 Comments on "Salsa Baked Eggs"
Leave a Comment
XHTML: You can use these tags: <a href="" title=""> <abbr title=""> <acronym title=""> <b> <blockquote cite=""> <cite> <code> <del datetime=""> <em> <i> <q cite=""> <strike> <strong>