Slow Cooked Baked Beans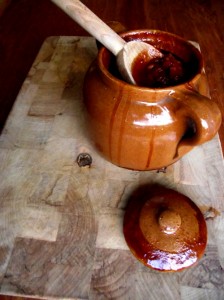 Nothing warms you up quite like a giant pot of homemade baked beans. I think they make a perfect winter lunch or side dish. They do take some time to put together before they go in the oven, but once they go in, you get to forget about them all day.
You don't have to have an actual bean pot, any oven safe pot will do, but I love the look of serving from a bean pot. I picked mine up for 5 dollars at a yard sale- just make sure you check it carefully for any cracks or you'll be in for a very messy stove incident!
Ingredients
2 cups Dried white beans
1/2 cup Fancy molasses
3/4 cup Ketchup
1/3 cup Brown sugar
3 tbsp Dijon mustard
2 Cloves crushed< garlic/li>
1 Onion sliced
1/2 lbs Salt pork or fatty bacon
5 cups Cold water
Salt & pepper
Directions
First soak beans overnight in enough water to cover them completely. The next morning, drain and bring to a boil in a large pot with 5 cups of water. Simmer beans for 30-45 minutes or until they are tender (they will not get softer during baking) and drain. Mix beans together with all ingredients except onions & pork. Line the bottom of your bean pot in half of the sliced onions and half of the pork. Fill the pot halfway with bean mixture, top with remaining onions & pork and then add the rest of the bean mixture. Top the mixture off with enough water just to cover beans, place pot on a baking sheet (in case of overflow) and bake at 250 for 7 hours. Check the beans periodically and add water as needed.
© Copyright 2023 Kim Hatcher at figandpepper.com
Leave a Comment
XHTML: You can use these tags: <a href="" title=""> <abbr title=""> <acronym title=""> <b> <blockquote cite=""> <cite> <code> <del datetime=""> <em> <i> <q cite=""> <strike> <strong>