Lemon Chicken and Artichoke Pizza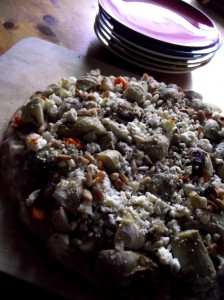 I love pizza for the simple reason that you can put anything you want on it- the same goes for flatbread.
This over topped and rather heaping pizza has all of my favorite things on it, but experiment….use what you love!
Ingredients
1 Thin crust pizza shell
1 large chicken breast
1/2 can artichoke hearts, halved
1/4 cup toasted pine nuts
1 cup crumbled feta cheese
3 tbsp Caesar salad dressing (or anything creamy)
1 cup mixed assorted veggies that you like (peppers, mushrooms, whatever you like)
1 Lemon
Directions
Slice up your chicken and pan fry in lemon juice. Top crust with your Caesar dressing and evenly distribute all toppings and finish with cheese. Pop into a 400 degree oven for 6-9 minutes or until golden brown.
See how easy pizza is? What do you want on top of it????
Prep Time: 10 minutes
Cook time: 16 to 20 minutes
Total time: 30 minutes
Yield: 2 to 4 servings
© Copyright 2023 Kim Hatcher at figandpepper.com
Leave a Comment
XHTML: You can use these tags: <a href="" title=""> <abbr title=""> <acronym title=""> <b> <blockquote cite=""> <cite> <code> <del datetime=""> <em> <i> <q cite=""> <strike> <strong>