Daksha's Gourmet Spices- Butter Chicken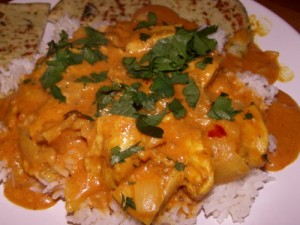 Daksha of Daksha's Gourmet Spices, whom I had the pleasure of speaking with several times, is a woman who is clearly passionate about her spices. They are all natural, hand selected, hand sorted and cleaned, and individually ground and blended. There are several products available for purchase and all boast the same quality and authenticity. She chose the Butter Chicken for me to try and I can easily see why it is her best seller. Though there are a ton of different uses for this spice blend I went with the traditional preparation by following the directions included on the spice packaging. Seriously folks, when an Indian woman sends you an authentic Butter Chicken recipe, you follow it!
It's heaven on a plate.  No joke- I've never had a butter chicken as good as this one.
Daksha's Butter Chicken
Mix 4 tbsp Daksha's Butter Chicken Curry Mix with 2 tbsp of olive oil and 1 1/4 tsp of salt. Make a paste and marinate 2lbs of cubed chicken in it.
Saute 1 1/2 chopped onions in 4 tbsp of butter in a pan on medium heat. Add marinated chicken, cover & cook for 20-25 minutes stirring occasionally. Add 3/4 cup of half & half cream and cook for another 5-10 minutes. Add 1 cup yogurt and cook for 3-5 minutes.
**optional** Add 1/2 cup tomato sauce and cook for an additional 10 minutes.
Serve over basmati rice & garnish with fresh cilantro.
© Copyright 2023 figandpepper.com
Leave a Comment
XHTML: You can use these tags: <a href="" title=""> <abbr title=""> <acronym title=""> <b> <blockquote cite=""> <cite> <code> <del datetime=""> <em> <i> <q cite=""> <strike> <strong>